The site is one of the sites which is nominated for the Week and Month Award site winners. It was hard to get the winners, there where many good sites among more than 1000 subscribes per week.
Your site was reviewed for originality, usefulness of information, graphic design, and was found to add an outstanding artistic flair, careful and concise design, and a wealth of information. Your site only enhances the originality of our internet community. Job well done!
CONGRATULATIONS!YOU HAVE WON KJEM'S Most Treasured Site AWARD!! On the basis of content, artistic originality and usefulness to the Internet community.

Congratulations!!......Your site definitely qualifies for the "Critical Mass Award". A very nice site, good design, clever original graphics, and your content is informative, entertaining, presented well and easy to access. A *worthy* enterprise and a positive contribution to the Web. Thanks for helping make the Web a more interesting, fun and attractive place to visit. I really enjoyed my visit to your site and will return again when time permits :)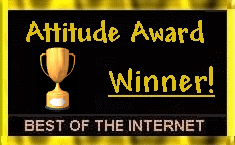 Congratulations! Although we receive many requests for awards each day most are politely declined, but we believe your site adds something special to the net.